San Francisco's photography community
At the mention of San Francisco, you can't help but immediately picture windy streets with vibrant colors, incredible cafes with inspired entrepreneurs, and of course, Karl the Fog. Well, so do we. San Francisco is one of the biggest tech cities in the world, where there's never a shortage of new projects on the Bay Area's horizon. In addition to the cities magnificent startup reputation, did you know that the city also holds a very inspiring creative community?
At Shutterstock Custom, we're very lucky to have an abundance of contributors based in San Francisco in our community. These talented Bay Area photographers and videographers embody everything we love about this magical city. They are vibrant, cultured, and extremely talented.
Last month, we had the pleasure of meeting a handful of our creatives (including the extremely talented Elizabeth Gilmore and Sam Graves) at a local hot spot, Dolores Park. We spoke to a few of them about the San Francisco community and shared their thoughts below.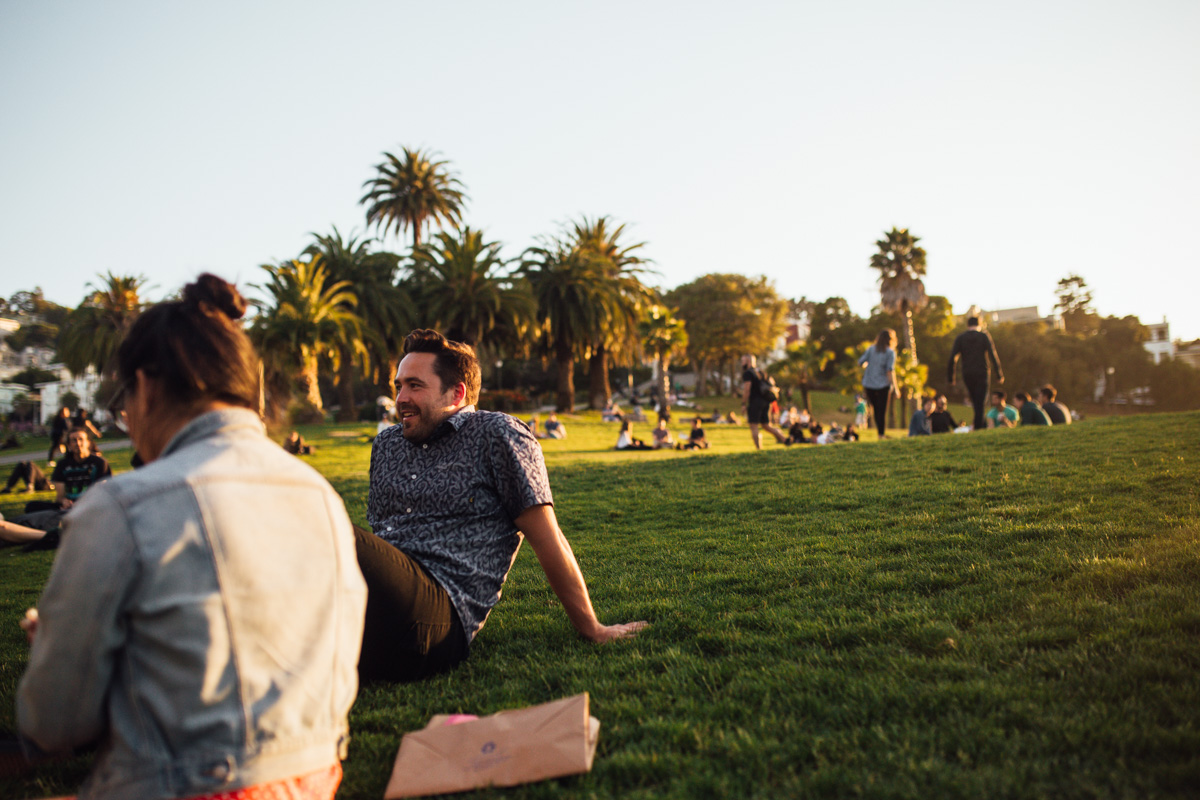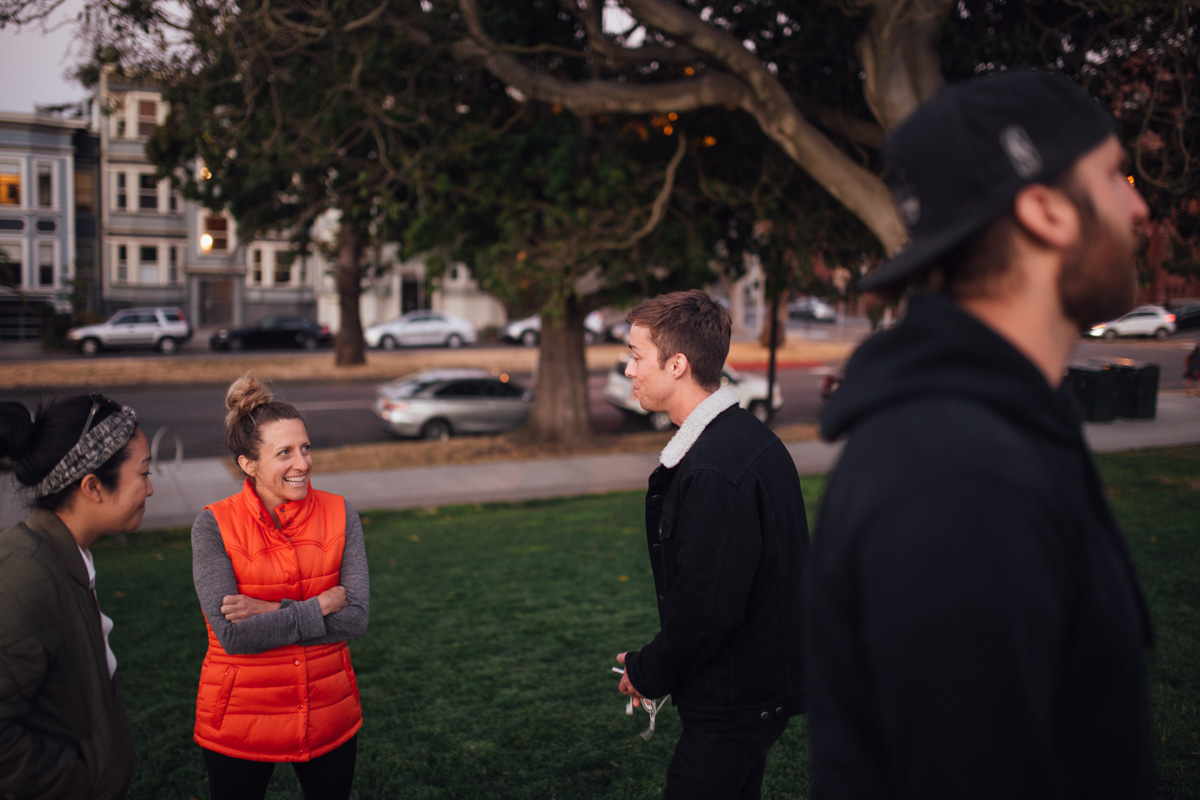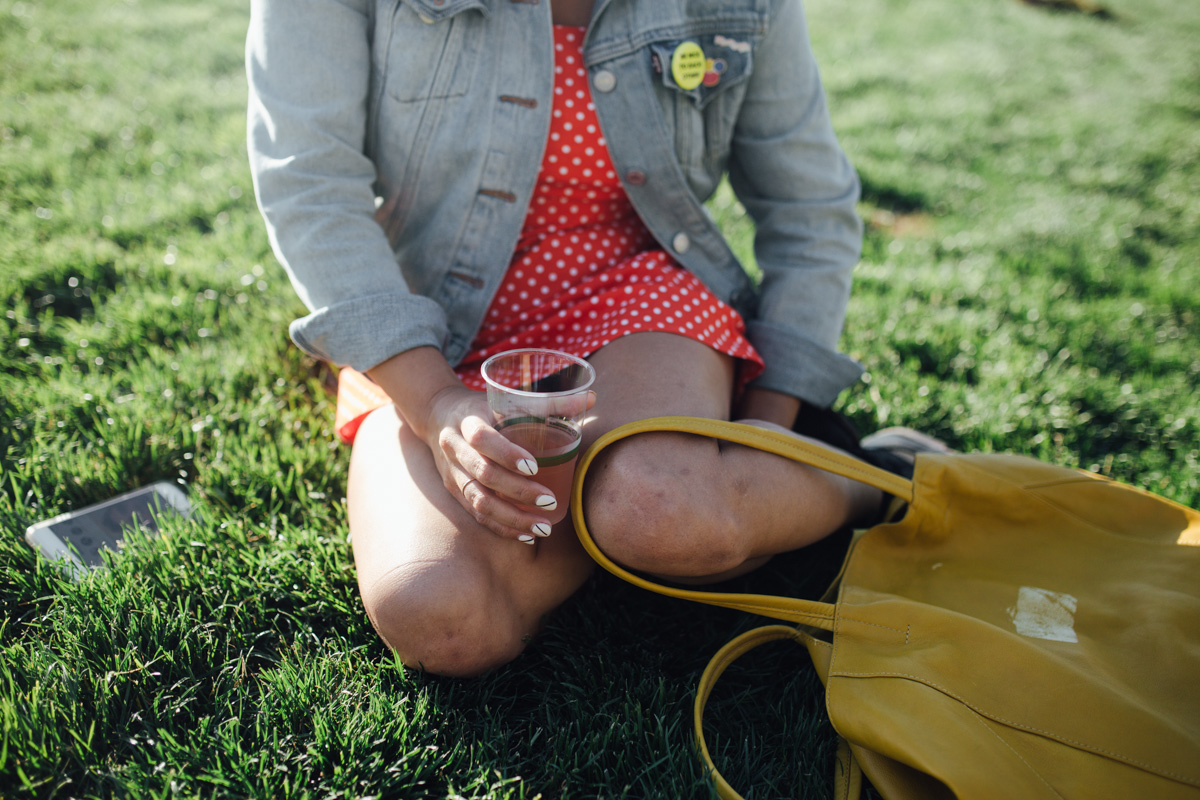 She's known for her incredible food photography, but you can also find her photographing lifestyle and portrait photography around the city.
Where are some of your favorite restaurants in the city?

Some of my long-standing go-tos include Terra Cotta Warrior, House of Pancakes, Cassava, Swan Oyster Depot, Turtle Tower, Plow, Cordon Bleu and El Farolito. If you're down to drive a bit south, you will be rewarded with the best Swedish pancakes in the entire world at Millbrae Pancake House (not to be confused with the aforementioned House of Pancakes, which serves the best Chinese scallion pancakes in the entire world).

What do you like to do when you're not working?

My work involves a lot of food and when I'm not working, I honestly still like to be around a lot of food. Whether it's trying a new restaurant, inhaling an entire charcuterie board while picnicking at Golden Gate Park, or experimenting new cocktails on a dinner/movie night with friends, food has always been central to my free time.

Where would you recommend photographers go when visiting?

You should definitely fuel up at one of my favorite restaurants before your adventure! I love the Presidio, Fort Point, Lands End, Buena Vista Park, and Mt. Davidson. I think one of the beauties of San Francisco is the marriage of natural and urban landscapes, and all these places have that. If you're looking for that quintessential San Francisco backdrop with architecture and gnarly hills, head on over to Nob Hill.
Favorite neighborhood in San Francisco and why?

I love the Sunset District. I grew up here when no one really came to the outer avenues because it was seen as a quiet, residential neighborhood away from the "fun" parts of town. Now that I'm older, I've grown to appreciate the beauty in having that peace and space away from the bustle and change happening everywhere else. The Sunset, with its rows and rows of colorful mid-century tract homes, Chinese supermarkets and Irish dive bars, seems relatively unchanged compared to the rest of the city- with the exception of some new local cafes, breweries, boutique stores and art galleries-all of which I love (shout out to Andytown!) I also love that I see the ocean from my room and am one of the last people to see the sun slip away :)
 
Cory is a lifestyle photographer who loves to shoot portraits, beautiful Airbnb's and bright spaces, and of course, food!
Where are some of your favorite restaurants in the city?

Izakaya Rintaro (SO GOOD), Beretta, Barzotto, and Ebisu Sushi.

What do you like to do when you're not working?
When I'm not working I'm usually trying to relax or to catch up on life, either hanging with friends, with my boy, or just doing chores at home. I love sunny weekends in Dolores Park, going for walks on the beach, exploring the East Bay (Oakland/Berkeley). There's a lot of variety with things to do in SF, and every weekend feels different!

Where would you recommend photographers go when visiting?

Photographers visiting should definitely see the views of the city from Corona Heights Park. Mount Davidson also offers really beautiful views on clear days but has a great charm in the fog as well. Sutro Baths is a staple and is pretty unique to San Francisco. I actually also love going downtown into the Financial District to shoot— it has really interesting light! Mount Tam is also a definite MUST. The views are incredible, and when the fog rolls in (especially August), you can get above it and it looks like an ocean of clouds all across the horizon. It's incredibly beautiful.

Favourite neighborhood in San Francisco and why?
It's hard to choose a favorite neighborhood! I think the Mission is great— lots of really good food, lots of really good coffee, it has Dolores Park, and it feels pretty central to me.
Tracey is an active photographer and athlete who specializes in portraiture as well as culture and art.
Where are some of your favourite restaurants?

I don't really eat out much (starving artist!) as I enjoy cooking but if anything, right in my Italian neighborhood, I like "Caffe Baonecci" or "Ideale".. And I just came across Papito in Hayes Valley for fresh and yummy Mexican.
What do you like to do when you're not working?

Playing outdoors, but that usually involves outside the city (biking, kayaking, running, surfing, etc) but in the city it's running/ swimming/ tennis or listening to live music!
Where would you recommend photographers go when visiting?

As photographers, we are always chasing good light, aiming for that golden hour... so I'd recommend sunrise near Bay Bridge and sunset at the Golden Gate Bridge. There are so many great viewing points of the bridge, so photographers should find all the angles/views and shoot them! In addition, the city has been growing their mural art collection, with many bars/cafes/restaurants making the mural their feature, so I'd recommend to seek those out for other great photos.
Favorite neighbourhood in San Francisco and why?
Not sure if I have a favorite, but I enjoy where I am in North Beach because it's a great mix of having a quiet neighborhood feel with character plus a short walk to all the hustle-bustle-bars-shops-restaurants-parks-fitness you would want. And it's super close to the water.
 
Whether you're interested in food, coffee, adventure, or the Bay Area's nature vibes, we definitely recommend following these creatives on Instagram! To our creatives in San Francisco, thank you for delighting our Instagram feeds with your beautiful work, and for showing us how to enjoy our evenings in Dolores Park, one Tartine Bakery cookie at a time.
We're constantly on the lookout for new contributors to join the Shutterstock Custom Contributor Community!
Are you a photographer or videographer interested in working with us?
Apply to start creating stunning visuals for the world's top brands!
Stay creative!
- The Shutterstock Custom Contributor Community Team
Guest post by: Elaine Rystead
Vancouver, BC
Elaine is the Creatives expert at Shutterstock Custom, otherwise known as our Community Manager. In addition she co-founded Local Wanderer, and runs her own photography through @Elainery.