Holiday Gift Guide: Custom Gifts to Give Using Your Photography
Tis the season for the holiday gift search, and as photographers, you have the talent to create amazing gifts for your loved ones using your photography skill and style! We've scoured shops and guides to find unique custom photography gift ideas for you to give to your family and friends this holiday season.
Here is our holiday gift guide for
custom gifts to give using photography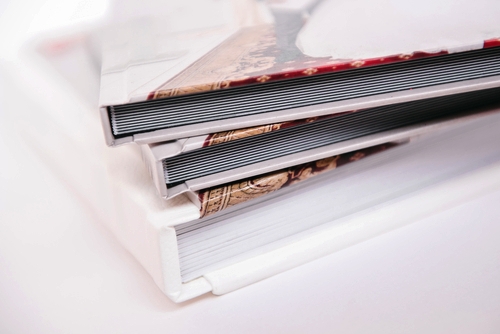 Softcover or hardcover, Artifact Uprising has plenty of options for photographers looking to create photo stories to share with their loved ones. Made with premium quality materials, there are a ton of different options that can be customized to showcase your work.
2. DIY Photo Playing Cards
We absolutely love this customizable DIY idea! Add your photography to a regular deck of playing cards for a usable gift that's unexpected. A Beautiful Mess put this really easy-to-do DIY together, check it out here and impress your friends with your arts and crafts skills.
Photo: A Beautiful Mess
3. Customized Wallpaper Murals
For the interior designer in your life, use your favourite photograph to create a customized mural or wallpaper. We are in love with Anewall's murals, and it's a bonus that these gems can also custom-make murals from a photograph of your choice. To learn more about making a custom piece, click here.
Did you go on an epic trip with a friend this year who can't stop sharing the photographs? Give them something they'll always have with them with a customizable phone case! Casetify can make custom cases for nearly every type of phone (and MacBook's too!) so your friend can always have that memory with them.
Photo: Casetify
Have an amazing photograph of the ocean your mom absolutely loves? Take her to that moment with a scented candle with the photograph printed on the glass. Shutterfly makes these with an abundance of different scents (including Ocean Breeze) that you can select to fit with the type of photograph you'd like on the candle.
A wall tapestry is a really universal piece of artwork that can be used in so many different ways throughout a home. Having a custom one made from your stunning landscape photographs is a perfect way to share your work with friends. We love the idea of sending this to friends abroad, as they can be quite light and easy to ship compared to traditional prints. Shop custom tapestries here.
Photo: Collage
Did you know you can upload any photograph and make a custom pair of Vans Shoes? Send your fashion friend a cool pair of kicks that no one else will own. Our favourite idea? A van with a close-up texture of something you've photographed across the entire shoe. Gift-giving just got epic.
Photo: Vans
Nothing says cozy like cuddling up in a favourite photo! Give the gift of comfort with a one-of-a-kind blanket. Our favourite? The woven blankets, although you can also get fleece if you prefer. Snapfish makes a ton of different options to choose from depending on your material preference.
For the sport-lover in your life, Yogamatic creates custom-printed yoga mats out of your own image! They can also create a custom printed yoga towel that's washable, compact, and made from recycled material. Doesn't get much cooler than that!
If you are a portrait or lifestyle photographer- this one's for you. You can create individual stickers or sticker booklets out of any face you've taken a photograph of. Or any animal's face, for the dog-mom in your life. Let the hilarity ensue with My Sticker Face.
Photo: My Sticker Face
We hope these custom gift ideas help spark some ideas while your shopping for gifts for family and friends! Have any ideas or past custom gifts you've created that you'd like to share with our community? Comment them below!
We're constantly on the lookout for new contributors to join the
Shutterstock Custom Contributor Community!
Are you a photographer or videographer interested in working with us?
Apply to start creating stunning visuals for the world's top brands!
Stay creative!
- The Shutterstock Custom Contributor Community Team